When you buy through links on our site, we may earn an affiliate commission.
Learn more
.
What to look out for when installing wheel spacers?
You should definitely purchase wheel spacers from reputable manufacturers, but there are a few more factors to consider. Always use wheel spacer kits that maintain the wheel offset close to, if not identical to, the factory setting. This way, the suspension components will be subjected to less stress and last longer as a result of this.
When installing wheel spacers, it's typically best to replace the bolts with longer ones. To get the right length of new bolts, add the thickness of your wheel spacer to the original bolt's length.
If you're looking for the best fitment possible, go with hubcentric wheel spacers. These wheel spacers put less stress on the suspension than normal wheel spacers. If you want aftermarket rims, install Hubcentric rings since they also help to minimize vibrations and improve fitment.
It's also safe to assume that raising the rear wheels too high will not only harm suspension parts, but it will also affect steering stability while braking, as well as increased steering effort and shortened bearing lifespan. Always use a little wheel offset.
In the end, if you install a leveling kit on your F-150, you'll have to use wheel spacers to get the correct geometry.
How will the new LED lights make your FORD F-150 better?
If you're looking for a way to upgrade your Ford F-150, LED headlight bulbs are a great option. Not only do they provide brighter light and better visibility, but they also last longer than traditional halogen bulbs. Plus, LED bulbs require less power, so you'll save money on your energy bill in the long run.
To install LED light you need to know the F-150 headlight bulb size, then you should simply remove the old halogen bulbs and insert the new LEDs. It's really that easy!
Once you've upgraded to LED headlight bulbs, you'll never go back to halogen again. Your F-150 will look great and you'll be able to see the road better at night. It's a win-win!
Do Ford F150 have LED headlights?
The Insurance Institute for Highway Safety has given the 2021 Ford F-150 crew-cab and extended-cab models a Top Safety Pick award. The biggest change was made to the headlights; the 2021 F-150 now comes with optional LED alternatives that earned Good and Acceptable ratings.
With the right LED headlight conversion kit, you can upgrade your Ford f150's headlights to LEDs. Here's what you need to know about the process:
1. Choose the right kit. Not all LED kits are created equal, and not all are designed to work with the F-150's headlights. Do your research to make sure you're getting a quality product that will fit your vehicle.
2. Follow the instructions carefully. This is not a project for beginners. Make sure you understand the instructions completely before starting, and take your time during the installation process.
3. Test your new headlights thoroughly before driving on public roads. This is for your safety as well as the safety of other drivers. Get used to the new light output and make sure everything is working correctly before taking your F-150 out on the open road.
With a little time and effort, you can upgrade your F-150's headlights to LEDs. This upgrade will improve your visibility on the road, and it can also give your F-150 a unique look. Follow the steps above carefully, and you'll be driving with upgraded headlights in no time.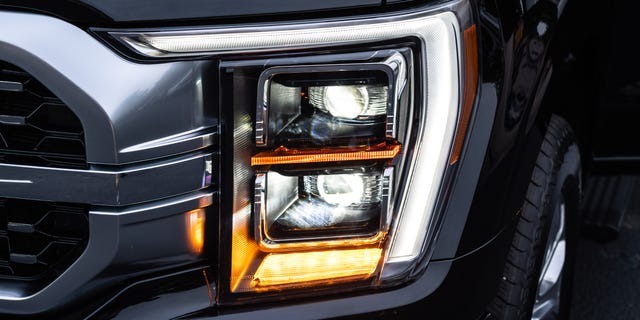 How do I know if my F-150 has led headlights?
That's just an indication that the bulb is probably a HID, meaning high-intensity discharge. If you turn your headlights on and they flash for a second, it's most likely HID. This is typically factory LED if you switch on your headlights and there's a quick instantaneous glow with no power loss or color changing (about seven to 10 seconds peak performance and tends to be white in color).
How much does it cost to upgrade to LED headlights?
The average cost of an LED headlight conversion kit is around $100. This price can vary depending on the quality of the kit and the brand that you choose. Make sure to do your research before making a purchase to ensure that you're getting a quality product.
Upgrading your F-150's headlights to LEDs is a great way to improve your visibility on the road. It's also a relatively simple project that can be completed in a few hours. Follow the steps above, and you'll be driving with upgraded headlights in no time.
Can you replace stock headlights with LEDs?
No. LED headlight conversion kits are only designed to work with stock halogen bulbs and assemblies.
Is LED headlights better than halogen?
LEDs offer a more intense white light than most halogens. This makes seeing things around corners less difficult and cooler, in addition to making viewing objects easier. LEDs are also more energy-efficient than halogen bulbs. While halogens generate a lot of heat, the amount of heat generated by LEDs is significantly smaller, resulting in greater energy efficiency.